How to Style Synthetic Wigs
When you are bound to encounter some messy tangles of wigs, the daily reactions you must have as the following."Oh my god!" "These knots make me crazy!""What should I do?"… Please don't throw that tangled wigs in the bin! By taking some patience to prepare and a few tools, combing out your wig, and giving it some time to dry, you would bring your tangled wig back to smooth.
The best part about this method is that the materials are easy to find and inexpensive. To gather your materials as follows. Wig stand, wig detangled spray, fabric softener, wide tooth comb and towel.
Here are some wig styling tips for your reference:
TIP 1: Style your wig after it's completely dry. Be sure that you leave time for drying your wig after washing. The weight of water can stretch the wig fibers, straighten curl and ruin the hairstyles.
TIP 2: Use a chin strap and a foam head for secure and hands-free styling. These accessories give you the freedom to use both hands without worrying about the wig sliding out of place. You also could take advantage of a styling head for a view from every angle.
TIP 3: Use a stainless steel brush on synthetic wigs. A stainless steel wig brush is recommended to prevent the stretching of fibers and shedding of hairs. For human hair wigs, a boar bristle brush is recommended. Once you have determined the correct tool, brush your wig in a manner that aids the style.  
• Use short lifting strokes with a wig brush on styles with tight curls, waves, or soft curls.
• Use long, even strokes with a wig brush for wigs that are smooth and straight.
• Use a comb or your fingers in a lifting motion for longer wigs that have ringlet curls.
To achieve more height on any style, brush initially in the opposite direction of the style, then smooth the fibers into your desired shape.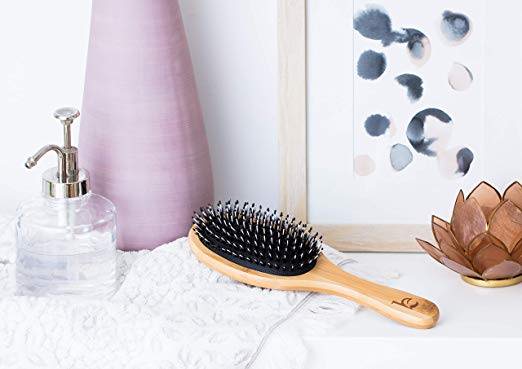 TIP 4: Only use specially formulated wig styling products to maintain wig fibers. Human-hair formulated products, like hairsprays and gels, would damage your synthetic wig. Wig spray or volumizing mousse are great tools to help keep your style in place.
To spray your wig:
• Start at the back of the wig and spray forward, keeping the spray 12 inches away from your head. Maintaining this distance prevents the wig from becoming overly saturated.
• Lightly mist the entire wig. Wait a few minutes after spraying to allow the style to set.
For added volume at the root:
• Spray about six inches away from your head.
• Separate the wig fibers using your fingers and direct the spray at the roots. This will add firmness to the base of the style, while leaving the ends soft and loose.
• Wait a few minutes after spraying to allow the style to set.
TIP 5: Use steam rather than heat tools. Heat tools, like a curling iron or straightener, will ruin the non-heat friendly synthetic fibers even the heat-friendly synthetic wigs if you use it improperly. However, you can use steam to remove kinks or set a style. If you want to add curls to the wig, put the hair in foam rollers, then go over it with the steamer. Let the wig cool and dry, then remove the rollers.
It is important to not brush your synthetic wig when it's wet from spray as this will ruin the present style. Once dry, you can add height to flattened areas, or reposition your curl using a comb or wig brush. Remember to use wig spray sparingly and primarily on areas that you have touched up. Spray build up can damage hair fibers and your wig will need to be washed more often.
Share with your sis. Join ReadyWig for more hair tips and styling ideas.
---